The New York Modern Museum of Art is running an exhibition of film maker Tim Burton's work from November 22- April 26, 2010. This amazing collection of paintings, drawings, videos, sculpture, and film props is drawing record crowds of all ages.
Just as a Burton movie is unmistakable (
Beetlejuice, Edward Scissorhands, Nightmare Before Christmas
) Burton's art is just as distinctive: a gallery of odd creatures and characters taken from a variety of inspirations such as Japanese monster movies, side show carnivals, sci-fi films and other fantastical expressions of Pop Culture that have tickled the quirky director's fancy.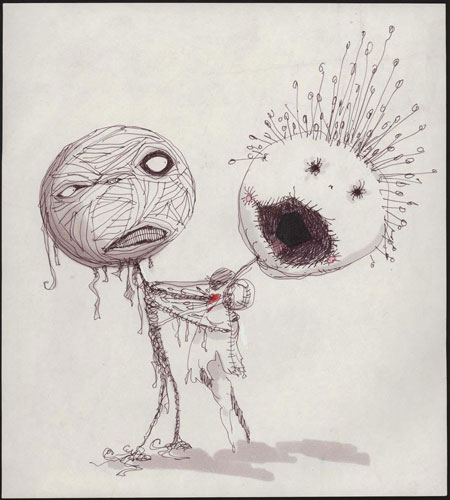 The exhibit includes over 700 examples of Burton's sketchbooks, drawings, paintings, and amateur films. He made seven sculptures for the exhibit, and music from long time collaborator Danny Elfman plays in the galleries.
Crafters and artists in any medium can find inspiration at this show. Consider
Kimm Chi
, who creates beautiful silkscreened apparel featuring bold and abstract designs.
Although Kimm's work is very different from the work of the famous director, she still left the museum feeling inspired and in admiration of Burton's ability to be so prolific. She told us that while at MOMA, she chatted with a guard who told her that the exhibit was an unexpected hit for the museum, drawing in enormous crowds like Matisse or Picasso, and that the museum was amazed with the response, and it was great to really see people of all ages appreciate the work outside of just the movies. Kimm was moved to blog about her response to the show
here
.
TODAY you have a chance to win a piece inspired by Tim Burton's artwork from the Etsy shop
Lennymud.
This whimsical monster mug can be yours just by leaving a comment below and letting us know what you would like to see more of on this blog.
We've been trying a lot of different things this month and we'd like to hear from our readers. Why do you read this blog: for crafting info or tips, info about art events in NYC, etsy info or any other reason. Just comment below and you are automatically entered to win. Winner announced APRIL 6.
Congratulations to the winner of the giveaway print from
PrismPop
, CHolloway, and the winner of the bracelet from
Wabisabi Brooklyn
Friendliest Ghost. Please contact the shops to claim your prizes.