Many years ago I moved from Taiwan to attend college in Boston. To all those around me I exuded excitement, but only I knew how terrified I was. That wide-eyed 17-year-old wanted so bad to achieve her dreams, to make friends and to fit into a new country.
My story starts out like many others, and with time, I hope that who I am and what drives me, will come out in bits and pieces in later entries. Nowadays people can hardly guess I grew up in a foreign country, and have an even harder time believing I experienced culture shock when I first came.
How did I overcome this? 1. Open to criticism, and 2. paid a painful amount of attention to what made me different.
I committed to change my accent, the way I talked, and the way I acted. These were all surface things I was willing to give up. However, when a family friend told me it was time to change my wardrobe, I was offended. Strange right? Seeing that it was the most surface out of all the things.
I didn't grow up with much of a budget for nice clothes, so what goes into my closet always went through a selective process to express who I am, and to walk with that pride everyday. Some of my pieces are on trend, while others are odd and vintage. I am proud of my collection, the stories that go with the choices, and the sense of personal style that has developed. Still my family friend was right, I had a new home, and I had to figure out how to play nice with my surroundings while not losing 'me'.
Since then I have grown to incorporate various clothing styles while being weirdly me. I enjoy bringing inspiration from my travels and environment to my wardrobe, so with that I'm here to share my travel inspired fashion choices.
Spring is in the air! And my current fashion appetite is all about floral prints! Even with my allergies, I'm craving pretty flowers - so I say we all give in and become one with nature.
I've been drooling over the luxuriously bold and flirty Liberty London prints for years now, and am ecstatic to find out that Uniqlo and J.Crew have finally caught on and merged these amazing floral prints into their line.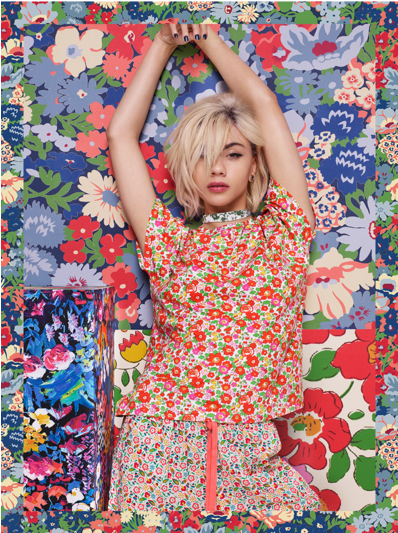 But really what sold me on flower-on-flower-on-more-flower is my trip to Kyoto, Japan last spring. The Japanese have been mixing and matching bright colors and florals for centuries in their traditional kimonos! I was fortunate enough to experience it first hand among the cherry blossoms, and now I am excited to flower-up again this spring in my new home.
Embrace the flower you were always meant to be this spring! Make Bambi proud!
Please enjoy these flowery inspired creations by the Etsy New York Team: