This is on of
Henry Darger
's watercolor paintings.
I had the good fortune to view "
Dargerism: Contemporary Artists and Henry Darger
" at the American Folk Art Museum today.
The American Folk Art Museum is located in Manhattan, very close to the
Museum of Modern Art
. Here is its website for you to peruse:
http://www.folkartmuseum.org/
It wasn't only Darger's work that was fascinating to see. I also found the work of 2 contemporary painters' works on exhibit to be equally powerful.
Simply put, Darger's works on exhibit, deal very poignantly with the themes of good versus evil.
Wikipedia has this to say about Outsider Artist, Henry Darger:
He has become famous for his posthumously discovered 15,145-page, single-spaced fantasy manuscript called The Story of the Vivian Girls, in What is known as the Realms of the Unreal, of the Glandeco-Angelinnian War Storm, Caused by the Child Slave Rebellion, along with several hundred drawings and watercolor paintings illustrating the story. Darger's work has become one of the most celebrated examples of outsider art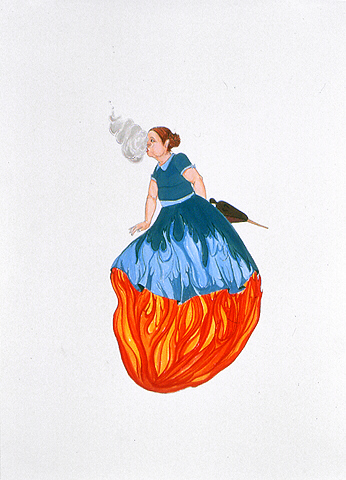 Artist,
Amy Cutler
, is one of 11 contemporary artists' works on exhibit, that impressed me a great deal.
Her work is very imaginative!
Here is only one example of her many paintings:
Please find more of Amy Cutler's paintings
here.