I had the good fortune to see this truly excellent exhibition at The Jewish Museum, in New York City, yesterday!
I found it to be very exciting,inspirational and education.
Taken verbatim from The Jewish Museum's website, the following words best describes the content of the exhibit:
In Action/Abstraction: Pollock, de Kooning, and American Art, 1940-1976, the first major U.S. exhibition in 20 years to rethink Abstract Expressionism and the movements that followed, over fifty key works by 32 artists – among them Jackson Pollock, Willem de Kooning, Helen Frankenthaler, Mark Rothko – will be viewed from the perspectives of influential, rival art critics Clement Greenberg and Harold Rosenberg, the artists, and popular culture.
I thoroughly enjoyed the energy, movement and use of color in many of the paintings and sculptures on exhibit.
The De Koonings and Pollock's were tremendous!
It was especially good to see expert works by Lee Krasner (who was Jackson Pollock's wife & major promoter of his art); Grace Hartigan; Joan Mitchell and Lee Bontecou (former professor of mine). But, the exhibition as a whole was excellent. In addition to paintings, it included sculptures, videos and photographs.
I gained a sense of the importance and influence of critics, Clement Greenberg and Harold Rosenberg during the Abstract Expressionist period in art history.
This painting by Jackson Pollock is entitled, "Convergence," and is in the exhibition. It was created in 1952 and is copyrighted by the Pollock-Krasner Foundation.
This painting, "Fantasia," by Hans Hofmann, was created in 1943 and is on exhibit, as well.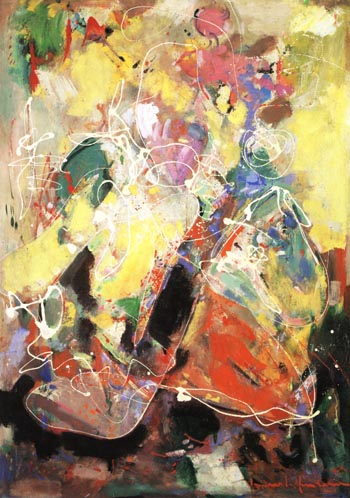 This excellent exhibit ends today, unfortunately.
But a link to the Jewish Museum's website is
here,
for future reference.
The exhibition catalogue is called, "Action/Abstraction: Pollock, De Kooning, and American Art, 1940-1976" and was written by Norman L. Kleeblatt.
There is a paperback edition of this book.
by Nina Kuriloff